Japan's First Automated Hematology Analyzer Registered by the National Museum of Nature and Science as "Essential Historical Material for Science and Technology" -Using Unique Technology to Cultivate True Automation in Blood Cell Counting-
Sysmex Corporation (HQ: Kobe, Japan; Chairman and CEO: Hisashi Ietsugu) announces that the CC-1001 automated hematology analyzer, which the Company developed as Japan's first instrument for automatically measuring the number of red and white blood cells, has been registered by Japan's National Museum of Nature and Science (Director General: Yoshihiro Hayashi) as "Essential Historical Material for Science and Technology", also known colloquially as "MIRAI Technology Heritage."
The CC-1001 was cited for its application of world-first creative technology to cultivate true automation in blood cell counting through the development of a sophisticated hematology analyzer, and its conspicuous role in the development of today's dynamic growth in the field of clinical testing.
A ceremony for receiving the registration card and commemorative shield will be held on Tuesday, September 10, at the National Museum of Nature and Science.
"MIRAI Technology Heritage" is a registration system by the National Museum of Nature and Science. The system stores and utilizes items that have been important factors in the successful development of science and technology. These items are also essential elements for science and technology that have strong significance as legacies to future generations and that have had a significant impact on national life, economy, society, and culture. At the same time, the system is aimed at passing on the experience of our predecessors in science and technology as a legacy to future generations.
The CC-1001 automated hematology analyzer, which Sysmex developed as the first such instrument in Japan in 1963, has been registered as a National Museum of Nature and Science Essential Historical Material for Science and Technology.
Hematology, which measures and analyzes the number and size of red and white blood cells, plays an important role in diagnosing health, as well as the diagnosis and treatment of illness. To count the number of blood cells, Sysmex used micromachining technology which encloses opposing electrodes with a diameter of 80 microns into an orifice with a diameter of 100 microns, and developed the world's first hematology analyzer employing an innovative technology called the conductance method. This method detects tiny changes in conductance as microparticles flowed through the fluid medium through an orifice as high frequencies were applied to the electrodes at opposite ends of the orifice.
For nearly a century, hematology in Japan had involved visual assessments by clinical professionals using microscopes. The CC-1001, which allowed blood cells to be measured automatically, was widely adopted throughout Japan. This development led to increased measurement precision, reduced personnel requirements for testing, and contributed to faster reporting of test results. The CC-1001 also helped to meet the growing testing demand stemming from Japan's 1961 introduction of a national healthcare system.
The high-frequency technique, based on the principle of detecting a change in conductance—the innovative technology that led to the development of the CC-1001—prompted the development and application of functions for classifying and analyzing white blood cells and supported Sysmex's development of hematology analyzers. We have also created automatic transport systems, which improve the speed and safety of testing environments. These developments, plus the application of high-value-added testing parameters, have earned our leading-edge technologies a global reputation. As a result, Sysmex has garnered the world's leading market share in the hematology field. We contribute substantially to healthcare throughout the world, working with healthcare institutions in more than 190 countries.
The CC-1001 is scheduled to be on display at the National Museum of Nature and Science from September 10 to September 23, 2019.
Going forward, Sysmex will continue conducting R&D toward the creation of advanced, highly valuable testing and diagnostic technologies. We will also leverage our global network to contribute to the development of healthcare and the healthy lives of people.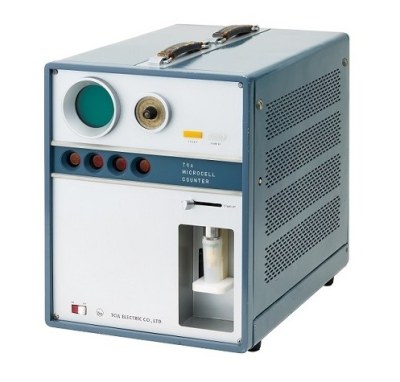 CC-1001 automated hematology analyzer
*Information contained in the press release is current as of the date of the announcement, but may be subject to change without prior notice.