Cytogenetics in Post-Natal Diagnosis of Genetic Disorders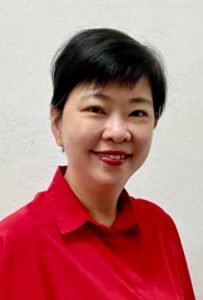 Dr Chin Loi Khim, Pathologist (Genetics),
Head of Genetics Laboratory, Hospital Tunku Azizah Kuala Lumpur
Dr Chin Loi Khim obtained her Masters of Pathology (Haematology) from University Malaya in 2007. She went on to do a Fellowship in Bone Marrow Cytogenetics at the St Vincent's Hospital Melbourne, Australia in 2011. Subsequently she had training at the Prince of Wales Hospital, Sydney in the field of prenatal testing of thalassaemia in 2016.  She is now heading the Genetics Laboratory of Hospital Tunku Azizah, Kuala Lumpur. She is also the Vice President of the Chapter of Genetic Pathology, College of Pathologists – Academy of Medicine, Malaysia.
Abstract of Lecture:
Genetic testing is crucial as one of the investigative modalities in congenital abnormalities during the postnatal period. It not only has a diagnostic value, but also is important for genetic counselling and identifying carriers of the genetic abnormality. Cytogenetic techniques, especially fluorescent in-situ hybridisation, allows quick identification of chromosomal aberrations. Its utilisation has long been the mainstay for the diagnosis of disorders like differences in sex development (DSD) and certain microdeletion syndromes (e.g. Cri du Chat, Williams and Wolf-Hirschhorn). In this webinar, Dr Chin Loi Khim (Genetic Pathologist, Hospital Tunku Azizah, Kuala Lumpur, Malaysia) will discuss the applications of cytogenetics in the post-natal evaluation of important, relatively common genetic syndromes.
We are glad to issue a certificate of participation up to 15th June should you complete the survey after watching the video.