Sysmex Launches New Products in the Hemostasis Field: Automated Blood Coagulation Analyzers CN-6000 and CN-3000 – Making Testing Even More Efficient and of Higher Quality through Higher Levels of Productivity, Reliability, and Operability
Sysmex Corporation (HQ: Kobe, Japan; Chairman and CEO: Hisashi Ietsugu) announces the launch of its next-generation analyzers in the hemostasis field, the Automated Blood Coagulation Analyzers CN-6000 and CN-3000. Sysmex is a leading company in blood coagulation analyzers. Through the launch of the CN-6000 and CN-3000, Sysmex aims to further enhance levels of productivity, reliability, and operability, in turn responding to diverse customer needs and contributing to even better efficiency and higher quality in the field of hemostasis.
Hemostasis, a type of testing that helps determine the ability of the blood to coagulate and dissolve clots, is used when diagnosing and treating hemorrhagic diseases, such as hemophilia, and thrombotic diseases, such as myocardial and cerebral infarction. In recent years, changing lifestyle habits and the aging of the population have led to increases in thrombotic diseases. Also, new blood preparations have been developed to enhance quality of life in the face of hemorrhagic disease. Against this backdrop, the field of hemostasis has seen increasing and more diverse demands for the early-stage diagnosis and appropriate treatment of such diseases.
Under Sysmex's sales alliance with Siemens Healthineers, the two companies mutually supply instruments and reagents globally. This partnership has led to us being in the top positions of the global market in the hemostasis field.1
The newly launched CN-6000 and CN-3000 are next-generation hemostasis analyzers designed to respond to increasingly diverse hemostasis needs by offering even higher levels of productivity, reliability, and operability than Sysmex's previous products. Following the launch in Japan, we will gradually introduce the instrument in overseas markets.
Compared with our existing top-end model, the Automated Blood Coagulation Analyzer CS-5100, the CN-6000 and CN-3000 feature an approximately 30% reduction2 in measurement time, due to higher processing capacity. At the same time, they are more compact, reducing the instrument footprint by approximately one half, contributing to better laboratory productivity. The CN-6000 and CN-3000 also feature greater precision in measurement error monitoring and stronger chyle specimen3 analysis capabilities, providing customers with even more reliable testing results. Furthermore, long-life LED light sources are used for the detection unit. The decreased need to change lamps reduces the operating burden on customers and increases usability.
The CN-6000 and CN-3000 are compatible with Caresphere™,4 our new network solution for making visible a variety of information from testing instruments and clinical laboratory information systems and analyzing them in the cloud. Linking with Caresphere™ allows users to monitor the number of samples processed, the amount of reagent remaining, and the quality control status. In addition, it enables customers to monitor and analyze the operating status of the entire lab easily and remotely.
Going forward, Sysmex will continue to engage proactively in R&D aimed at instruments and reagents that respond to increasingly varied and sophisticated customer needs. By providing high-quality testing, we aim to contribute to swift diagnosis and the selection of appropriate treatments.
New Product Overview
Name: Automated Blood Coagulation Analyzer CN-6000
Automated Blood Coagulation Analyzer CN-3000
Target facilities: Medium- and large-scale hospitals and commercial labs, as well as other facilities
Launch: Japan: December 2018 (Outside Japan: to be launched successively in individual countries after receiving approval)
Processing capacity: CN-6000: up to 450 tests/hour (during PT single-parameter measurement)
CN-3000: up to 225 tests/hour (during PT single-parameter measurement)
Measurement time: As little as 4 minutes, 30 seconds (during PT single-parameter measurement)
Testing Parameters (at Launch in Japan)
Coagulation: PT, APTT, Fbg, extrinsic coagulation factors (II, V, VII, X), intrinsic coagulation factors (VIII, IX, XI, XII), PC
Chromogenic substrate: FVIII, FIX, FXIII, AT, PC, PLG, α2-PI
Turbidimetric immunoassay: FDP, D-dimer, FMC, VWF: Ag
Agglutination: VWF: RCo, ADP, collagen, epinephrine
Features
Realizes a swift and efficient testing environment by reducing testing time and saving space
Employs the multi-wavelength transmitted light detection method (multi-wave detection method), ensuring the high reliability of reported data though wavelength-switching and functions to detect and analyze abnormal specimens
Employs LED light sources (service life of approximately 36,000 hours), to reduce the work and cost associated with changing lamps
Reduces minimum required plasma volume by approximately 65% due to improved sample pipetting, reducing the burden associated with transferring samples
Improves operability through functions to automatically open and close the reagent rack to help prevent reagent transpiration, and to provide notice of necessary regent volume
Enables real-time monitoring of instrument operating status and management of the remaining supply of reagents and consumables through linkage with Caresphere™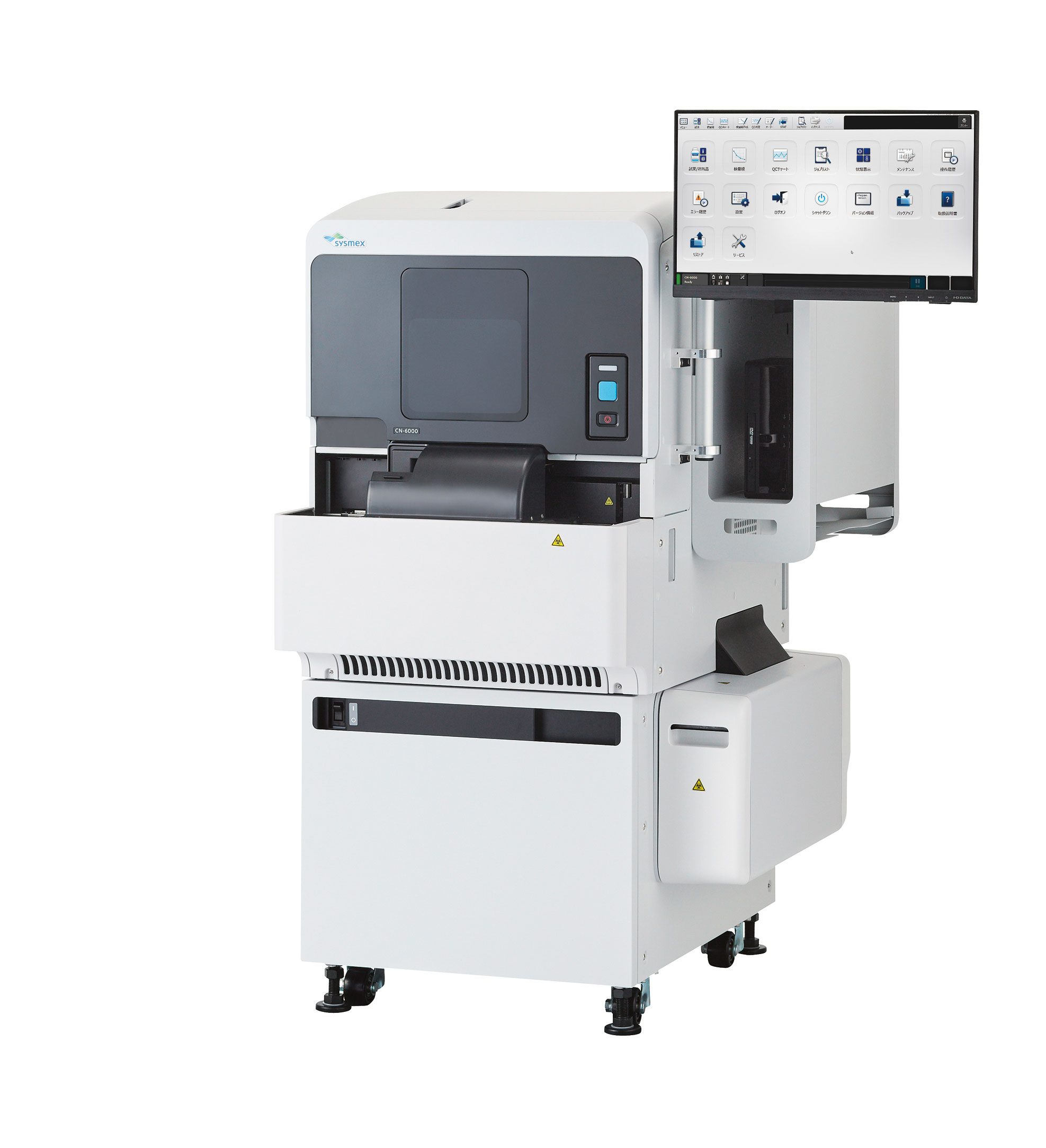 Automated Blood Coagulation Analyzer CN-6000/CN-3000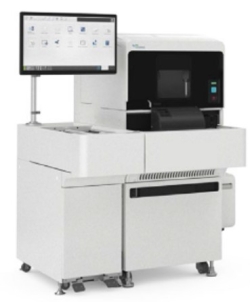 Terminology
Based on sales volume in 2017 including the alliance with Siemens Healthineers (Sysmex research)
During PT single-parameter measurement
Chyle specimen: If blood is sampled immediately after a meal, undigested lipids may remain in the blood, causing the specimen to appear milky in color. For certain testing parameters, measurement results can be affected.
Reference: Press release dated April 5, 2018, entitled "Sysmex Launches Caresphere™, a New Network Solution: Supporting the Intelligent Use of Information for the Healthcare of the Future, Where the Use of Information is Accelerating" https://www.sysmex.co.jp/en/corporate/news/2018/180405.html
*Information contained in the press release is current as of the date of the announcement, but may be subject to change without prior notice.