HISCL-5000

is a fully automated immunoassay system designed for fast, highly sensitive and reliable immunoassay testing.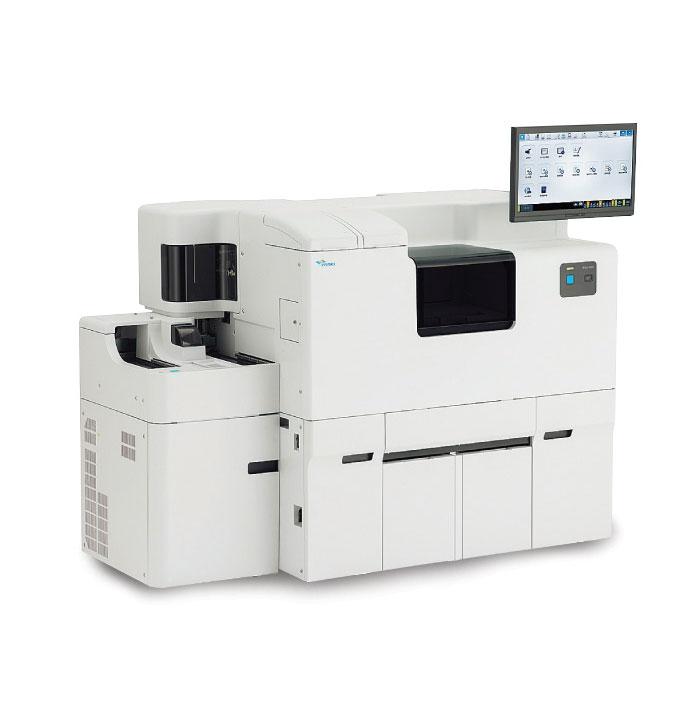 The HISCL-Series offer rapid reaction time with throughput of up to 200 tests per hour and continuous loading feature for enhanced laboratory efficiency and productivity, best suited for medium to high throughput laboratories.
Registered Under Act 737 (IVDD27347258218)
*The HISCL-5000 are only available in Philippines, Malaysia, Indonesia, Vietnam, Thailand and India.
For more product information, please contact your local Sysmex agent.
Measurement Principle
Chemiluminescence Enzyme Immunoassay (CLEIA)
Number of Parameters
Onboard- Up to 24 Parameters
Processing Capacity
200 tests per hour
Reaction Time
Approximately 17 minutes (time from sample aspiration to measurement result display)
Number of Samples Set Up
Up to 100 samples loading capacity
Number of STAT Positions
1 sample
Required Specimen Volume
10 – 30µL
Sample Container
Test tube (open)
Diameter (outer diameter): 13 – 16mm
Height: 75 – 100mm
Dead Volume
The depth of the serum or plasma component from the surface of liquid is 5mm or more
Sample Cup
4 mL conical cup
Dead volume
0.15mL
Reagent Management Function – R1, R2, R3 reagents, Luminescence substrate set
RFIDline washer, cleaning fluid, probe washer: barcode
Data Storage
100,000 sample results (maximum)
Precision Management
L-J (Chart) or X-bar (Chart)
External Output
RS232C, LAN
Power Specifications – Analyser
AC 200 – 240 V AC
Pneumatic Units
220 V AC
Rated Frequency
50 Hz/60 Hz
Printing System
External printer
Accessory
Handheld barcode reader
Options
Drainage tank, indicator light, conveyance connection kit
Main Unit

Dimensions (W x D x H) Approx. 1,725 x 840 x 1,300 mm (including thesampler)
Weight Approx. 490 kg

Compressor

Dimensions (W x D x H) Approx. 300 x 500 x 390 mm
Weight Approx. 28 kg
*The HISCL-5000 are only available in Philippines, Malaysia, Indonesia, Vietnam, Thailand and India.

For more product information, please contact your local Sysmex agent.

Measurement Principle
Chemiluminescence Enzyme Immunoassay (CLEIA)
Number of Parameters
Onboard- Up to 24 Parameters
Processing Capacity
200 tests per hour
Reaction Time
Approximately 17 minutes (time from sample aspiration to measurement result display)
Number of Samples Set Up
Up to 100 samples loading capacity
Number of STAT Positions
1 sample
Required Specimen Volume
10 – 30µL
Sample Container
Test tube (open)
Diameter (outer diameter): 13 – 16mm
Height: 75 – 100mm
Dead Volume
The depth of the serum or plasma component from the surface of liquid is 5mm or more
Sample Cup
4 mL conical cup
Dead volume
0.15mL
Reagent Management Function – R1, R2, R3 reagents, Luminescence substrate set
RFIDline washer, cleaning fluid, probe washer: barcode
Data Storage
100,000 sample results (maximum)
Precision Management
L-J (Chart) or X-bar (Chart)
External Output
RS232C, LAN
Power Specifications – Analyser
AC 200 – 240 V AC
Pneumatic Units
220 V AC
Rated Frequency
50 Hz/60 Hz
Printing System
External printer
Accessory
Handheld barcode reader
Options
Drainage tank, indicator light, conveyance connection kit
Main Unit

Dimensions (W x D x H) Approx. 1,725 x 840 x 1,300 mm (including thesampler)
Weight Approx. 490 kg

Compressor

Dimensions (W x D x H) Approx. 300 x 500 x 390 mm
Weight Approx. 28 kg