Using our unique
Chromoprobe

process, multiple probes are reversibly bound to a glass slide providing a convenient screening tool for genetic abnormalities across multiple chromosomes. Key applications include detection of chromosomal rearrangements and as a diagnostic/ prognostic tool in the detection of various leukamia's.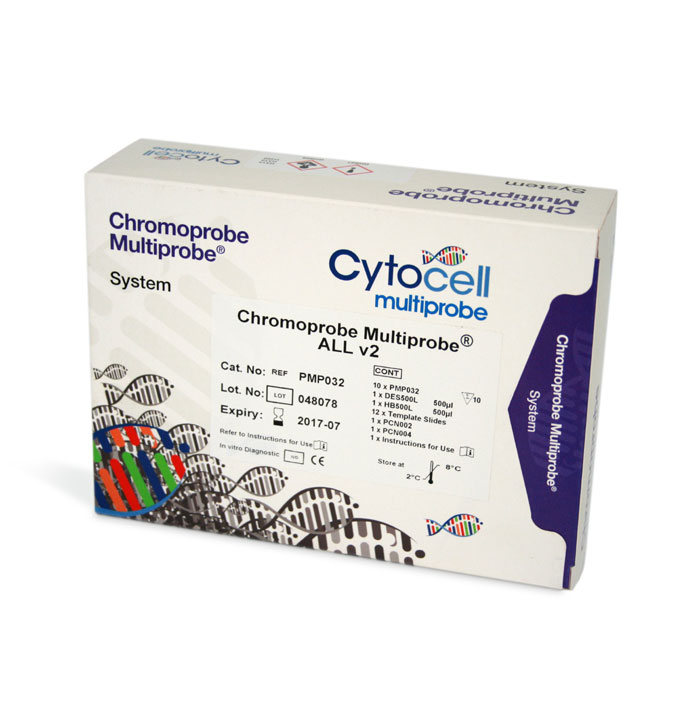 Multiprobe* Overview (RUO)
The Chromoprobe Multiprobe System is an extension of Cytocell's proprietary Chromoprobe technology, whereby DNA FISH probes are reversibly bound to the surface of a glass device. These probes dissolve back into solution once in contact with the supplied hybridization buffer, whilst denaturation of the probes and target DNA occurs simultaneously under the device when heated. This approach not only simplifies the whole FISH procedure but also render it safe and quicker to use.
Benefits of the Multiprobe
This system allows multiple FISH probes to be hybridized on the same slide in a spatially separated manner allowing rapid screening of a patient sample for multiple DNA target sequences in a single FISH analysis.
The assay is supplied in a kit format of 2,5 or 10 devices and includes hybridization solution, DAPI counterstain, template slides, a hybridization chamber and full instructions for use. The kit even contains a unique liquid crystal display slide surface thermometer for accurate temperature measurement of the denaturation surface.
Probe*
cMYC (MYC) Breakapart
P16 (CDKN2A) Deletion
E2A (TCF3) Breakapart
Hyperdiploidy
TEL/AML1 (ETV6/RUNX1) Translocation, Dual Fusion
MLL (KMT2A) Breakapart
BCR/ABL(ABL1) Translocation, Dual Fusion
IGH Breakpart
Target Gene
CHIC2
MYC
CDKN2A, ABL1
KMT2A
ETV6
IGH
TCF3
RUNX1
BCR
Multiprobe Panel* - AML/MDS
Probe*
Del(5q) Deletion
PML/RARα (RARA) Translocation, Dual Fusion
P53 (TP53) Deletion
AML1/ETO (RUNX1/RUNX1T1) Translocation, Dual Fusion
MLL(KMT2A) Breakapart
Del (7q) Deletion
CBFß/MYH11 Translocation, Dual Fusion
Del (20q) Deletion
Target Gene
EGR1
RELN
ETO
MLL
PML
CBFB, MYH11
RARA, P53
MYBL2
AML1
Probe*
MYB Deletion
Chromosome 12 Enumeration Probe
ATM Deletion
IGH/BCL2 Translocation, Dual Fusion
IGH Breakapart
P53 (TP53) Deletion
IGH/CCND1 Translocation, Dual Fusion
13q14.3 Deletion
Target Gene
MYB
ATM, CCND1
DLEU1, DLEU2
IGH
P53
BCL2
Benefits of the Multiprobe

This system allows multiple FISH probes to be hybridized on the same slide in a spatially separated manner allowing rapid screening of a patient sample for multiple DNA target sequences in a single FISH analysis.

The assay is supplied in a kit format of 2,5 or 10 devices and includes hybridization solution, DAPI counterstain, template slides, a hybridization chamber and full instructions for use. The kit even contains a unique liquid crystal display slide surface thermometer for accurate temperature measurement of the denaturation surface.

Probe*

cMYC (MYC) Breakapart
P16 (CDKN2A) Deletion
E2A (TCF3) Breakapart
Hyperdiploidy
TEL/AML1 (ETV6/RUNX1) Translocation, Dual Fusion
MLL (KMT2A) Breakapart
BCR/ABL(ABL1) Translocation, Dual Fusion
IGH Breakpart

Target Gene

CHIC2
MYC
CDKN2A, ABL1
KMT2A
ETV6
IGH
TCF3
RUNX1
BCR

Multiprobe Panel* - AML/MDS

Probe*

Del(5q) Deletion
PML/RARα (RARA) Translocation, Dual Fusion
P53 (TP53) Deletion
AML1/ETO (RUNX1/RUNX1T1) Translocation, Dual Fusion
MLL(KMT2A) Breakapart
Del (7q) Deletion
CBFß/MYH11 Translocation, Dual Fusion
Del (20q) Deletion

Target Gene

EGR1
RELN
ETO
MLL
PML
CBFB, MYH11
RARA, P53
MYBL2
AML1

Probe*

MYB Deletion
Chromosome 12 Enumeration Probe
ATM Deletion
IGH/BCL2 Translocation, Dual Fusion
IGH Breakapart
P53 (TP53) Deletion
IGH/CCND1 Translocation, Dual Fusion
13q14.3 Deletion

Target Gene

MYB
ATM, CCND1
DLEU1, DLEU2
IGH
P53
BCL2